10 Tips to Ace Your Next Video Interview

Larry Cohen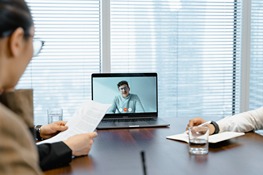 The video interview, once only a luxury used primarily as a screening tool for out-of-state candidates, became a necessity during the pandemic and is now here to stay. Companies see tremendous value in continuing this process even as they open and return to the workplace. Why? Simple. Hiring managers can be more efficient with their time. Candidates are more relaxed (no stress or getting flustered because they got stuck in traffic). And various companies like Microsoft and Zoom have made the applications incredibly user-friendly. What was once a luxury and unusual is now going to be commonplace.
As we slowly round the corner of this pandemic-induced recession, hiring is beginning to pick up. As mentioned, the video interview is likely to be the preferred interview method of the present and future. It is critical that jobseekers master the art of the video interview. I've put together a list of 10 tips to help you improve your chances and help you prepare for your interview at home behind the camera.
Make Camera Contact.
A classic interview tip is to always make eye contact, and the same is true in a video interview. So, how does this translate to video format? Most people tend to look at the screen (at the person they are talking to) and not the webcam. That means you are not making eye contact. This takes practice. Hint: Put a note on the screen (the interviewer can't see it… more on that later) with an arrow pointing to the camera.
Lighting is Key.
Nothing can ruin your video quality like shadows or bad lighting. It is so important that your interviewer be able to see your face and expressions. The best lighting source is free; try setting up your desk to face a window to take advantage of natural lighting. If the sun is out of the question, consider investing in an inexpensive ring light or another kind of studio lighting. Also make sure there are not windows or other bright light sources behind you.
Tidy Your Background.
One thing your interviewer does not need to know about you is the potentially untidy state of your home. And they certainly don't need to see that picture of you proudly chugging that beer through a funnel. Ideally, the background for your interview should be plain, like an unremarkable wall, a doorway, or even an external backdrop. If these are unattainable, make sure that there is not anything particularly distracting or messy behind you.
Hint: Bookshelves can be a major distraction as people tend to be interested in what books you read.
Have a Pet Plan.
Of course, no one is going to openly object when your adorable pet appears in the frame, but one cannot deny that it is a major distraction. In an interview the focus should always be on you. Make sure you have a plan in place to ensure your pet isn't stealing the show.
Hint: Have someone come over to watch them during your interview.
Test the Hardware ("Tech Check").
There is nothing more annoying in the virtual meeting world than technical difficulties. To avoid being "that person" in the meeting, do a preliminary test of your camera and microphone. Most programs have an option on their menus to test these elements before you join the meeting, and it's worth the extra few seconds.
Hint: Do a "tech check" with a friend or family member.
Work Out the Wardrobe.
One thing that has not changed about interviews is the dress code. You still want to look professional and put together. This means no clothes with graphics or logos and hair arranged in a way that implies effort. It is still an interview and first impressions matter! Also, an unseen pair of sweatpants isn't harmful as long as you stay seated.
Hint: Dress for the interview when you do the "tech Check" above. Ask how your outfit looks.
Rehearse.
Mock interviews still are the best way to prepare. Practice that hard to say phrase or the technical description of your work experience. In a virtual setting, the best way to do this is to ask a friend or family member to video chat with you and feed you the questions. Alternatively, record yourself asking the questions with your webcam, and then pause the video as you watch it back to practice your answers out loud.
Hint: Don't over think this one. The best answers are always the ones that come naturally and don't feel rehearsed.
Use Your Notes.
One thing you could not get away with in a traditional interview is checking your notes. In a video interview you can use your monitor as a note board. Just jot down a few things you don't want to forget mentioning or the questions you want to ask on a sticky note and place on your monitor. You will be able to easily remind yourself of key talking points without your interviewer ever having an inkling.
Hint: Don't use too many. You still want to focus on making eye contact with the camera verses the screen.
Fine Tune the Framing.
Angles, angles, angles. If necessary, laptops can be elevated to ensure your interviewer isn't getting a prime view of your nostrils. The angle also determines what's visible in your background. Additionally, position yourself in the center of the frame where you are visible entirely from the around the shoulders up.
Hint: Try different angles before deciding which one to use.
Hear and Be Heard Clearly.
Remember, what you say is only as good as what the interviewer can hear. And hearing a question correctly is critical to answering it. If you are using wireless earbuds (or something similar) make sure they are fully charged before the interview. Try to avoid clunky over the head headphones or headsets. Corded earbuds work well. Just make sure the cord isn't stretched too tight. That could provide a visual distraction to the interviewer. The ideal length of a cord is one that falls naturally to your shoulders then flows to your PC. Another option is to get a wireless speaker as many have a built-in microphone.
Hint: To ensure that your audio is picking up your speech clearly, make sure to eliminate any background noise. As mentioned above it is a good idea to do a tech check which includes your sound.
Careful planning for a video interview will help ensure that the interviewer is focused on you and has minimal video or audio distractions. Following the tips above could be what sets you apart from the competition and lands you the job, or at least the next interview!
© 2021 Larry P. Cohen